The M-CTS Collaboration - FTI
Was Funded by the European Union's Horzon 2020 research & innovation programme and the market maturation programme Fast Track to Innovation (FTI)
This project was well and succesfully finalized in 2021 with a strong collaborative M-CTS project consortium, created to secure and fulfill the optimization, demonstration & market maturing activities of the emerging M-CTS. 
The consortium consisted of; Knapen Trailer, IDOC A/S and LINEAS. All joined forces to create a new multi-functional swap body suitable for horizontal transfer while optimizing the CTS technology to endure high impact performance when transferring a 36 tonnes (40`container) from road/to rail horizontally. A transfer performed from a truck/trailer to a trainwagon adapted with the CTS-container wagon frame.
The techonology is now ready for gradual commercial uptake.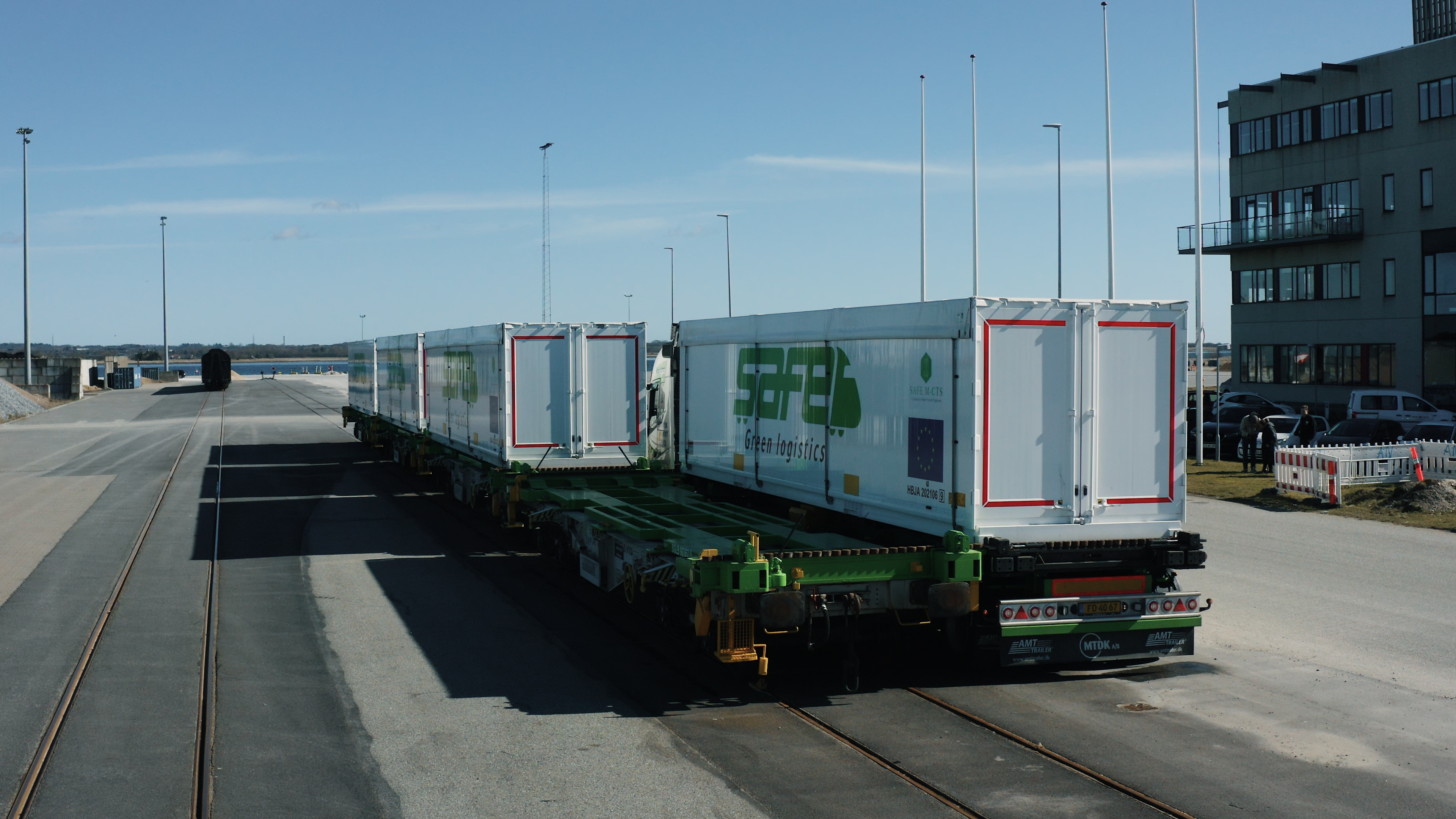 We Craft a strong solution with a Powerful
Technology
Easy, effortless and efficient transfer of a container body.
Market and Freight

Balance
M-CTS will benefit both market requirements and freight networks.
We Intend to demonstrate the
Best
Performance and time-efficiency are key meassurement points for the M-CTS technology
The service
M-CTS

brings

The M-CTS is the combination of the CTS technology and a multimodal swapbody (M), with a multifunctional purpose, strong and durable for horizontal movement. The swapbody was developed within the FTI project.

 M-CTS offers seamlessly movement of cargo with a body able to carry a vast variation of cargo and with features such as a walking floor. The body can be handled with the CTS technology as well as other handling equipment. The purpose of these swapbodies has been to create a multifunctional body streamlined & flexible, offering load diversity in a multimodal freight process.

Watch the video
M-CTS project
Project
Duration
The M-CTS project was initiated May 2019 ended in December 2021. The process and milestones of the project was successfully achieved by delivering a close to market ready product. The consortium, with each individual company expertise, was specifically gathered in this project to optimize, build, demonstrate and market mature M-CTS performing on a high quality level and with required continuity.
The M in M-CTS stands for the multifunctional swap body unit (40`) created in this project to endure and withstand the high forces of impact from the horizontal transfers applied to the bottom frame of the construction during the transferring process. 
Our Project
Goal
The FTI consortium project objective was to' deliver an adaptive, multifunctional, low cost and seamless technology to multimodal freight between road and rail, without the use of time-consuming intermediaries.
M-CTS will contribute to better flow of goods, variations of goods carried between the modes and to secure and enable more return loads. M-CTS has a clear environmental target, by executing the main and above stated objectives, growing congestion & environmental impacts of transportation globally will be reduced notably. The relief of strain and congestion to inland freight transportation caused by primarily road distribution will contribute to a strong, sustainable and thriving growth of transported goods