What is CTS
The Container Transfer System (CTS) is a seamless and horizontal container transfer technology.
The CTS technology encompasses an entire integrated concept, adapted and fitted to create more lean and sustainable transportation of both people and products.
By using SAFE-CTS technology, each container transfer is done in approx 1 min. As the process can be done simultaneously, an entire trainset can be unloaded and loaded swift and lean. These prospects empower the opportunity to both enhance the rate of transportation by intermodal (rail/truck) modes, eliminating bottlenecks such as e.g. time, and cost-waste in terminals where only cranes or reach-stackers operate. Besides these central hubs or central clusters the CTS technology can operate next to the railway tracks in any area, given the surface is a plane foundation suitable for un/offloading by truck.
Trucks carry the goods/containers from the sender to the closest base, a first mile distribution. At the base the truck equipped with the CTS trailer unit will position itself next to the train-line in parallel and in receiving/or transfer distance to the train wagon. When in position the transfer can be initiated. This operation takes approximately 1 min. The cargo is then transported by train to the receiving base. Here the container is transferred, again via CTS, to another truck (another 60 second operation). Once the process is completed the container is then transported the last mile to the receiver for its final delivery destination.
To learn more about the CTS technology please download our product prospect which elaborates product information on the Container Transfer System & supporting concepts.
SGL product prospectus
To mitigate and accommodate Industrial and societal bottlenecks in the freight transport industry the container transfer system and its supporting concepts pulls from the resources in rail and road freight while discarding the disadvantages from both transportation modes. 
The concepts
CTS Technology
The Concepts
Point to point routes
First and lastmile are performed by truck. The base-to-base (longhaul) distribution by rail. The figure illustrates the transition of the cargo going from road to rail.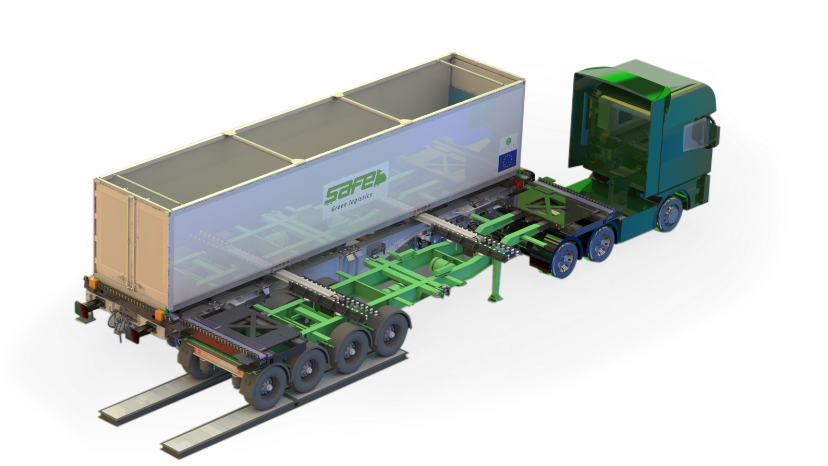 Hub-terminal
The Hub model builds upon accumulation of many point-to-point routes, running from east to west and south to north. The hub-model seeks to centralize all goods at the hub-sorting terminal thus effectively handle all goods at one place e.g., Noerre Aaby Hub-terminal in this DK example. (More than one hub is required in larger countries)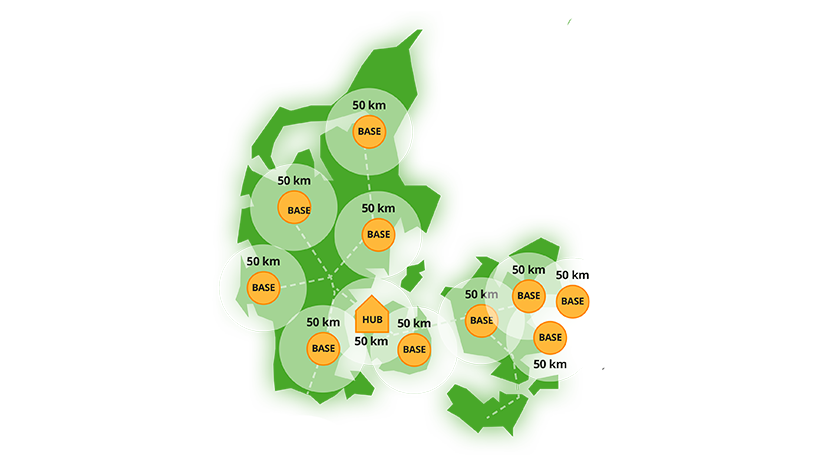 Rapid
The Rapid-model includes passengers in to the Hub-model and prioritizes passengers and cargo freight equally. Because the cargo moves simultaneously with the passengers the competitive incentive and advantages are obtained against conventional single carrier freight.
Appendixes
Read our
prospectus

,
and learn more about the

CTS Technology

and

sustainable

alternatives